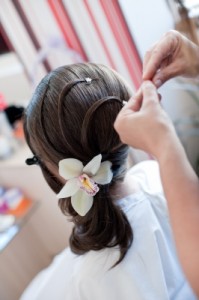 Image: Rosen Georgiev / FreeDigitalPhotos.net  
Wedding hair
Wedding hair and wedding hairstyles will depend on mostly your own hair style and length, veil, dress and what suits the whole ensemble. Here are some ideas for wedding hairstyles:
1. Wedding updo hair
2. Freestyle down wedding hair
3. Half up half down wedding hairstyle
This is becoming a more popular style and suits most wedding dresses and faces. A wedding hair do half up half down is easy to achieve and wear and doesn't need to look formal with every hair in place. A half up half down wedding do can leave the hair over one shoulder giving a sultry look. It can be tousled and neatened up for a more sleek wedding half up half down do.
4. Beehives for wedding. These can be fully up or half up and half down wedding hairstyles.
Wedding updo
Hands down the most popular style for wedding hair. It looks classy and elegant and shows a dress and veil off to perfection. Some ideas are below: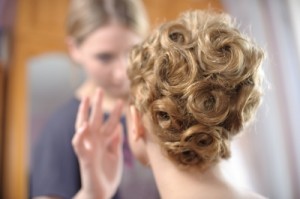 Image: Rosen Georgiev / FreeDigitalPhotos.net