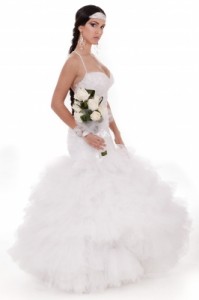 Image: photostock / FreeDigitalPhotos.net
What sort of wedding dress style do you want? Maybe you have something in mind or do you need ideas for your wedding dress? If you need ideas have a look at some of the classic shapes below and see what sort of style you want. A good ideas is to go to a wedding dress shop and try on a few different styles to see what suits you. It may not be what you think! If you are going at a weekend check if you need to make an appointment first as weekends may be the busiest time and if the wedding boutique is small and another bride is having a fitting you may not be seen promptly.
Top Wedding Dress for 2011—- New Arrivals and Hot Items
Wedding dress colour
Again it is recommended to try a few different shades to see what suits you. The main shades are white, ivory and off white. Depending on skin tone one may suit you more than others. As a general guide blondes with pale skin will suit white whilst brunettes and darker skin tones are more suited to off whites and ivory. Of course you may wish to go for another colour entirely and pale pink, baby blue, black and red are alternative popular choices for wedding dresses.
Wedding dress styles
Make you outstanding—-MLtailor Special Occasion Dresses
BIG wedding dresses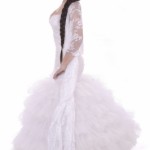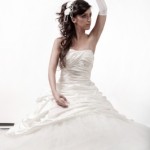 Image: photostock / FreeDigitalPhotos.net
Generally fuller skirted wedding dresses suit taller slimmer figures as they can look bulky on a larger figured girl. Full skirts can be boosted further with the use of a double hoop underneath. This also helps movement in the dress as the hoops hold the wedding dress skirts away from the body and allow an area of free space under the dress for movement of the legs and feet. A hoop is like an underskirt and is wired with one or two hoops. Double hoops are more suited to larger skirts.
Take into account when you are having your wedding when choosing a wedding dress as full heavy skirt can be very hot to wear and in summer this can be uncomfortable. Also consider how easily you can move about. Make sure you try the dress ad hoop on properly with the shoes you intend to wear on your big day and try walking round in the ensemble. How does it feel? Can you cope with this for hours on end?
Taking all this int account some of the larger wedding dresses can also look the most stunning. Let's face it: when are you ever going to otherwise get the chance to wear an amazing fairytale dress?
Slim fitting wedding dresses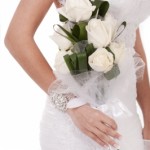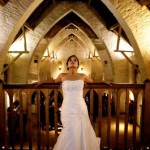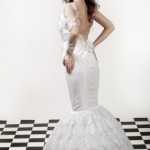 Image: photostock / FreeDigitalPhotos.net
Image: Sharron Goodyear / FreeDigitalPhotos.net
Slim fitting wedding dresses suit most figures and all heights. You may consider a wedding dress that is figure hugging all the way down to your feet or how about a fishtail design which can look stunning especially with a delicately cut train.
Slimmer fit dresses look more sleek and sophisticated than their fuller bodied counterparts but it s a question of personal style and what suits you. Always dress up in different dress styles. You may be surprised at what looks best on you!
Consider when choosing slimmer fitting wedding dresses again what time of year your wedding is. Easier to wear in summer than winter though for winter weddings this style may not provide much warmth. Generally this style may be a cheaper wedding dress cost wise than larger dresses if only for the amount of material and sheer volume of fabric consequent with larger dresses.
Fittings wise slimmer fitting wedding dresses may cost you more n fittings to get the wedding dress a snug fit. There is more to alter with such a wedding dress. Typically with a larger dress with a full skirt only the bodice and length will be altered.
Fishtail wedding dresses
Image: photostock / FreeDigitalPhotos.net
Fishtail dresses can look stunning. A typical wedding design is a tight fitting bodice and skirt to mid calf and then an expanse of material to form a liquid train behind the bride. These look gorgeous for walking down the aisle in and making an impact.
Things to consider when choosing this style include of course how easy movement is. With the wedding dress being tighter fitting all the way down the body it can be difficult to move freely and a long train means people easily stand on it and it could get damaged. It is also difficult for a bride to manoeuvre in this sort of dress. Though most dresses with trains can be hooked up if used during the evening for dancing it is often hard to this with a fishtail wedding dress and even if it can be achieved it can look rather odd and awkward.
Make sure you try this style and see how you feel in it before taking the plunge and deciding.
Short wedding dresses
Lace wedding dresses
Off the shoulder wedding dresses
Strapless wedding dresses
Tips for wedding dresses
Also bear in mind these other points about wedding dresses in general. You may need a hoop of the wedding dress is a fuller style. Hoops can be single or double, the latter having a more dramatic effect. These hoops are boned underskirts that go underneath the wedding dress skirt to boost volume. They also assist in holding the wedding dress skirt away from the bride's body making walking easier and less likelihood or tripping over the wedding dress skirt material. Slimmer fitting dresses may not require any hoop. Wedding dress hoops are usually hired from the wedding dress shop and cost about £20. Don't forget to return it after the big day!
Wedding dress alterations will usually be required so make sure that your wedding dress is ordered in plenty of time to allow for fittings. Usually at least one or two are needed. However for fuller skirt dresses lesser fitting are normally required than if the wedding dress is a slimmer fit. Of course if the dress is off the peg you may not have any alterations done and the wedding dress shop may not offer these as a matter of course but you could always ask them to make alterations or take elsewhere
Zip, button or lace up back? The decision will really be based on the overall style of the dress you choose. A bride usually wouldn't choose a dress based on the fastening details alone! With zip backs these are easier to do up and less fiddly though you need to be assured of a correct fit over the bodice area. Button back wedding dresses involve in most cases the material covered buttons. These can be fiddly and time consuming to button up especially with wedding dresses there will be alot of them.. Some may even unslip and come undone or come off in some cases. Lace up backs can provide a snug fit but take time to do up properly and some brides do not like lace ups and the ties can look untidy.
Where to buy wedding dresses
Boutique The traditional and most popular way to buy a wedding dress. Boutiques are specialists in wedding dresses and stock a wide range and the facilities to make picking a dress easy. They can offer expert advice and have the accessories such as veils, shoes and tiaras to hand. They can also hire you hoops for under the wedding dress and deal with any alterations. Most require that you make an appointment to avoid waiting time but in slack periods it is possible to drop in to see the range of wedding dresses and try some on.
Sales Often you can pick up a budget wedding dress at a bargain prices at sale. Wedding shops often have sales and sell off old stock really cheaply. It is not unknown to buy bridesmaids dresses and flower girl dresses for £10 and wedding dresses can be little more. The choice may be limited but if you find what you are looking for then you can get a bargain wedding dress. Drawbacks include you may need to arrange your own alterations but if the shop is still in operation (as opposed to having the sale in order to close down) then you may be able to arrange alterations there. If not there are plenty of other wedding dress shops that will take on alterations or you can take to a normal dressmaker. Another disadvantage is that the size may not be correct but alterations can solve this provided there is not too large a discrepancy. The dress may also have been used as a sample in the wedding boutique for clients to try on so be careful to check it is brand new if you are looking for a new dress. If it is used then check carefully for any damage or dirt and bear in mind the costs of cleaning the dress may have the be factored in before you consider if you are getting a bargain.
  offer Cheap Wedding Dresses & Gowns
 and you can even get them at budget prices Milanoo-Cheap Bridal Gowns under $100
. A USA based company they do offer for higher priced wedding dresses a policy of "" Enjoy 50% off Shipping on any Wedding&Events Orders over$100 ""
Online There is a good range of online dresses. You need to consider the fact that you will be buying a dress that you have not seen or tried on and this may be a considerable sum of money. Therefore check the returns policy and wether you have to pay for you own returns and for what reasons you can return wedding dresses. Also postage costs may be high for large items and you will need to ensure it is returned safely. Checking the retunrs policy is very important in this case. Remember your wedding timescales. If the dress is not right can you get another one in time and get your money back in order to pay for another one if relevant? If you like the dress but is it need altering make sure you can get alterations done in time. Amazon wedding dresses has a good reliable returns policy and a good range of wedding dresses for all budgets. Womenswear at M&S
 also has a good range and reliable online policy. Also try Light In The Box Wholesale Goods
who offer 60% Shipping Off + Up to70% off on Wedding& Events.Make Deal Now!
Other than that there are some cheap wedding dresses to be had online. Check out Milanoo-Cheap Bridal Gowns under $100 in particular as detailed more above
Also try MLtailor-Choose Best Bridal Gowns for Your Fall Wedding 2011! More Fashion Styles & Delicate Details & Start ONLY $69.99!
High street
How to buy a wedding dress
You may be buying cash or credit card or you may be lucky and have it bought as a gift for you!
When to buy a wedding dress
When you are getting married of course! No seriously we mean at what sort of time in relation to your wedding should you look for and order your dress. The earlier the better really within reason. Some dresses are made to order and if you leave it to late you could find yourself excluding a large proportion of designers. However too far away from your wedding date and you may find new styles hit the shops and you like a dress you see at a later date having already chosen yours.
We suggest about 12 to 6 months in advance of your wedding date. It is best to go to one shop and try a few different styles to get an idea of what you want and then pursue that style over a few other shops. Don't look in too many though at risk of seeing too many dresses and not being able to decide! Narrow your search down as far as you can and then choose the design.
Once you have chosen your design see if there is anything that you may want improving that may be possible. For example, if the dress involves a decorative flower in one colour it may be possible to order another colour. Similarly if you want more glitter the designer may be able to accommodate this. Ask. It will b your dress and if it is made to order designers should be happy to oblige.
Also try the dress, or another dress, if not possible in your dress, in different colour shades to see what suits you. (Also see above as regards choosing what colour wedding dress.)
Six months is usually a comfortable time in which to order the dress but always check with the retailer. Factor in time needed fro fittings as well and estimate about 2 or 3 weeks in addition to order and arrival time for these.
As regards paying for your dress it is advisable to do by credit card to obtain the finance protection should the shop become bankrupt. Many boutiques are one off small shops. You should also not be paying the full sum until final collection. Most retailers ask for around half the dress cost on order and the balance on collection.
Make sure the retailer will call you when the dress arrives and diarise the estimated arrival date and chase up if you have not heard from them.
Follow these guidelines and all should go smoothly on the wedding dress front.
 Top Trend Wedding Dresses at Milanoo
Links